Summer Music
in Somerset





The Story of
THE SOMERSET
CHAMBER ORCHESTRA






by HYWEL JENKINS



From: The Somerset Magazine, August 1993



James Scourse in action at Wells Cathedral. Elizabeth Anderson is principal 'cellist and her brother Julian is leading the orchestra
This August sees the fifteenth consecutive series of summer concerts given by the Somerset Chamber Orchestra under its founder James Scourse. From its origins as a string orchestra comprising ex-members of the Somerset Youth Orchestra, the SCO has developed over those fifteen years a following capable of filling Wells Cathedral, drawn by the expectation of music-making of unusual commitment and quality.
James Scourse was brought up in Cheddar and attended Wells Blue School from 1969 until 1977. During this time he learnt the 'cello and was strongly influenced in his attitude to music by daily contact with his aunt, Joan Scourse, who had retired to Cheddar in 1969 from the music department of Royal Holloway College, Egham. A founder-member of the Somerset Youth Orchestra in the early 70s, he nevertheless decided against music as a profession, progressing to St. Peter's College, Oxford, to study geography in 1977. Retaining music as a major extra-curricular interest, he moved on to a Ph.D. and College Fellowship at Cambridge, and eventually became lecturer in marine geology in the School of Ocean Sciences, University College of North Wales. He lives at Menai Bridge on Anglesey with his violinist wife Margaret, from Glastonbury, whom he met in the SYO, and their two daughters Rebecca and Rosalind.
The SYO tour of Fife in 1978 was their last contact with the orchestra, as it was for a number of other nineteen-year-olds, including Kevin Rogers from Yeovil, but such was the depth of friendship and musical focus which had been engendered that they determined to meet the following summer to play, and perhaps perform. Jane Carwardine of Wells Cathedral School, who had performed the Max Bruch G minor Violin Concerto on the Fife tour as a last-minute replacement for an indisposed soloist, was invited to lead, and the Somerset Chamber Ensemble was born. Kevin Rogers is still orchestral manager.
So it was that on 10th July 1979, at St. Mary's Church in Wedmore, the Somerset Chamber Ensemble gave a very successful - and apparently 'one-off' - concert in aid of the then current Wells Cathedral West Front Appeal. Indeed such was the success that another meeting was soon planned for the summer of 1980.
| | |
| --- | --- |
| In concert at the Pump Room, Bath. | Briony Shaw and James Scourse during a rehearsal of the Beethoven Violin Concerto at the Pump Room, Bath. |
For this 1980 meeting Jane Carwardine and Elizabeth Anderson, a superb 'cellist from the Cathedral School and former desk-partner of James Scourse in the SYO, encouraged several other outstanding young musicians from this renowned specialist music school to play with the Ensemble; thus Briony Shaw, violinist and violist, and Wenna Hughes, violist, joined the group. These four, Jane, Briony, Wenna and Elizabeth, formed the backbone of the Ensemble for four years, and the orchestra to a large extent earned its early reputation through their quite remarkable musicianship. Jane remained leader until 1982, and she, Briony and Elizabeth regularly performed concertos with the orchestras in these early years before moving on to flourishing professional careers, Jane with the Guildhall String Ensemble and London Mozart Players, Briony with the Academy of St. Martin-in-the-Fields, and Elizabeth initially with the Trio Zingara and presently as a widely-respected teacher in Wiltshire, where she lives with her husband Tim Richards - another founder-member of the group and leader in 1986 - and their daughter Emma. Jane and Briony in particular have returned regularly as soloists since 1982, Jane in The Lark Ascending by Vaughan Williams in 1984 and the Bruch G minor in 1988, and Briony in the Beethoven in 1986. It is with eager anticipation that the orchestra is to welcome Briony back in the Brahms Concerto this summer.
Until 1981 the Ensemble consisted only of strings, but with occasional wind soloists, notably Philip Rowson, again ex-SYO, who was flute soloist in the Bach B minor Suite in 1979, and who later played with the Royal Philharmonic. In 1982, however, it was decided to expand repertoire options by adding oboes and horns, and this led to the recruitment of Claire Briggs from Millfield School, a superb horn player who stayed for three years, during this time playing the Mozart Third Concerto, and returning in 1987 for a memorable performance of the Second Richard Strauss Concerto in Wells Cathedral. She now holds one of the most coveted horn seats in the country - principal in Simon Rattle's City of Birmingham Symphony Orchestra - and has recently recorded all the Mozart Concertos with Stephen Kovacevich and the Royal Liverpool Philharmonic for Classics for Pleasure. Her connection with Somerset remains strong, however, and this year she has returned twice, first for Masterclasses at Millfield, and then in May to perform the Britten Serenade for Tenor, Horn and Strings with the Taunton Sinfonietta.
| | |
| --- | --- |
| Claire Briggs (centre), now principle horn of the City of Birmingham Symphony Orchestra, with Karen Durant (left) and Susan Alder at Kingweston House in 1983. | Catrin Morris Jones, an outstanding young harpist from Anglesey, rehearsing with the orchestra at Wells Cathedral in 1992. |
1983 was a year of change. Firstly it was decided to transform the ensemble into a fully-fledged chamber orchestra by the addition of flutes, clarinets, bassoons, trumpets and timpani, and to rename it the Somerset Chamber Orchestra, thus making available at a stroke a vast range of repertoire. Secondly Julian Anderson, brother of 'cellist Elizabeth and a pupil of the great Hungarian teacher Sandor Yegh at the Salzburg Mozarteum, took over from Jane Carwardine as leader. Thirdly, and most importantly, the entire complexion of future summer gatherings was altered by the decision to become a residential 'summer school', rather than continue with the existing system whereby players travelled to the rehearsal venue each day, sometimes from beyond the county boundaries. This arrangement had become increasingly inconvenient, and had precluded the recruitment of players who did not live within travelling distance. With the kind permission of Mr. Colin Atkinson, then headmaster of Millfield School, Kingweston House near Butleigh was made available, and this remained the orchestra's home for the next six summers.
This wonderful country house, set in mature parkland, the former home of the Dickinson family, proved to be a most inspiring and atmospheric setting for rehearsals and social contact, and helped weld the orchestra into a happy and co-ordinated group. None of this would have been possible without the help and forbearance of Eric and Joan Westwell, houseparents at Kingweston, whose peace was shattered each summer; they certainly deserve their annual complimentaries at South Petherton!
The transfer to residential status also owed much to the guiding hand of Belinda Roberts from Street. All her children - Rachel (viola), Simon (flute), Ben (percussion) and Hannah (violin and viola) - played with the orchestra at some time and, between 1983 and 1989, Belinda acted as caterer, treasurer and general administrator of the orchestra. Her tragically early death in February 1990 robbed the SCO of a much-loved friend and tireless behind-the-scenes worker. Her death was also a great loss to the county as a whole, as she was widely respected in a number of other fields - marriage guidance and playgroup work to name but two.
| | |
| --- | --- |
| Morning rehearsal at Wells Cathedral, 1992. | An informal chamber music session at Brymore, with Nick Williams (principal oboe) and other members of the orchestra. |
The happy relationship with Kingweston continued until 1989, when the demands of the Millfield Summer School of Education necessitated a move to another Millfield House, Etonhurst at Ashcott. A highlight of the Kingweston years was the start of the association between the SCO and Nigel Clayton, an inspiring young pianist from London. In 1987 he performed the Second Shostakovich Concerto and in 1989 the Ravel G major, on both occasions producing playing of glittering virtuosity and deep sensitivity. Nigel returns this summer to play Mozart's Concerto No. 24 in C minor, K491, in the new Concert Hall at Queen's College, Taunton.
It was also during the Kingweston years that the distinctive voice of the orchestra emerged, and a particular affinity with French and English repertoire of the late 19th and early 20th centuries. These strengths, together with a special sympathy for Mozart, will be exploited this year in performances of Debussy's Prélude á l'après-midi d'un faune, Poulenc's Sinfonietta and Elgar's seldom-performed Dream Children, together with Mozart K491.
In 1987 Frances Poole, a fellow-student of Jane Carwardine and Briony Shaw at the Guildhall School, became leader, and has now served longer in this critical role than anyone else.
1989 saw the orchestra outgrowing Etonhurst, so the 1990 course would have taken place elsewhere; unfortunately, however, the death of Belinda Roberts coincided with a series of clashes with other groups, which conspired to rob the orchestra of most of its string players. Collapse was averted through the unstinting efforts of Liz Coe, a horn player from North Petherton, and four concerts were given by the Wind Soloists of the SCO, the programmes including Dvorak's Wind Serenade and Mozart's Serenade K361 (Gran Partita). That at Strode Theatre, Street, was given in memory of Belinda Roberts, proceeds going to the Bursary Fund she had set up shortly before her death to aid African students in coming to Britain.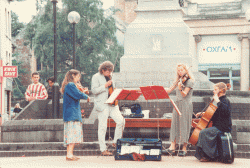 Members of the orchestra busking in Bridgwater. From left, Frances Poole (current Leader), Nick Lawrance, Kate Fraser and Jo Richards.
1991 found the SCO back at full strength, settling into its present base, Brymore School, Cannington. This technical secondary school, administered by Somerset County Council and set in the rolling, red-earthed countryside of West Somerset, has proved ideal, with ample accommodation, abundant leisure facilities and a large rehearsal hall. Add to these a certain indefinable atmosphere and the result is a near-perfect venue for a venture of this kind, and the SCO is very grateful to the new Headmaster of Brymore, Mr Pierce, and his staff, for continued use of the school's facilities.
Easier to define is the continued audience-appeal of the SCO. For many seasoned concert-goers throughout the county SCO concerts are a firm fixture in the calendar; the plain fact is that James Scourse and his players offer varied, interesting programmes performed with a professional expertise and joie-de-vivre which belie the relative youth of many of the participants and put to shame many more august ensembles. James's interpretations are invariably well-considered, uncontroversial yet imaginative, dynamic yet sensitive; in short he is persuasive enough to convey a feeling of 'rightness', and obviously communicative enough in rehearsal to mould his talented players.
Under his inspirational leadership the Somerset Chamber Orchestra remains a flourishing and dynamic musical force in the county, which not only gives much pleasure to many each summer but also has been able over the years to donate much to charity as a tangible expression of its commitment. For a week at the end of August each year it manages to weld together, and to express through music, many of the glories and influences of Somerset - pupils, staff and facilities of both state and independent schools, concert venues as glorious as Wells Cathedral and as intimate as the Parish Church at South Petherton, all set amongst some of the most beautiful countryside in the land.